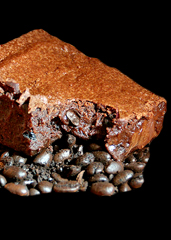 We don't want to get you all down during this festive season, but 2012 is just around the corner. Which means only one thing: Mayan prophecies. Doomsday. In other words, the end.
Better eat an obscene amount of brownies while you still can.
Here to help:
Naughty Bits Brownies
, a local outfit now sending out cocoa-rich confections nationwide. Yes, including to you.
The woman behind your hub of brownie activity: a pastry chef and food scholar named Leigh, who now puts her talents to all sorts of next-level brownie research. Like: how to get wasabi, crystallized ginger and sesame bits into a brownie. And have it taste good.
You'll probably want to send some of these to those closest to you, so you'll start by going online and picking one of her six varieties to have shipped, in a box of six or 12. Like the
Cabana Banana Boy
, with banana chips, macadamias and coconut (perfect for your friend who decided to "winter" in Key West this year). Or the carnivorous
Shiksa
, a marriage of maple bacon and toffee bits (for Julia Louis-Dreyfus).
Not that you won't reserve some for yourself. Namely the
Barista Bar
, with Kahlúa and chocolate-covered espresso beans, just the thing to stay up and break your record of consecutive viewings of
A Christmas Story
.
Just watch for the brownie jitters.