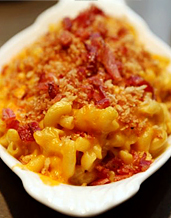 You're not going to like the sound of this at first, but hear us out.
There's this couple, Beau and Tiffany.
They want to proposition you.
Oh, but don't worry, it's just with crab mac and cheese and french toast sandwiches...
See, turns out, they'll be the ones driving the city's first and only comfort-food-specific truck. It's called
Mac the Cheese
, and it will be by your side in just a few short weeks.
It's just a big automobile filled with nothing but comfort food. The kinds of things your mom made you back in the day—
green bean casserole
, braised brisket, shepherd's pie and cheddar biscuits.
But before they start rolling around dispensing culinary nostalgia all over town, they'll need to open up their brick-and-mortar spot over in Buford (it's happening Wednesday). Which means that if your need for a grilled cheese with shallot butter and applewood-smoked bacon outweighs that of... not having one, you'll need to hop in the car.
But soon enough, they'll be rolling through all points ITP, doling out turkey meatloaf on ciabatta and a little something called the
Brinner
, a french toast sandwich with a fried egg, housemade bacon jam and maple syrup.
Guess your mom missed that memo.