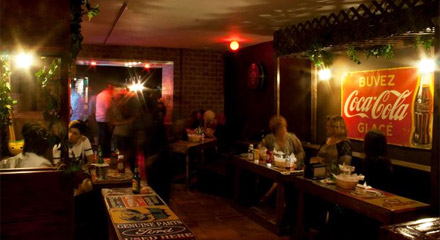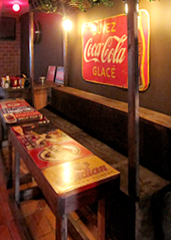 Beer and hot dogs: a classic combination since... whenever hot dogs were invented.
But beer
in
hot dogs: well, that's a classic combination as of... right now.
Welcome to
House of Dog
, a new spot for beer and beer-spiked hot dogs, officially open tomorrow night in the heart of Miami Beach.
You'll find this scuffed-on-purpose place tucked away a few blocks from the Forge on 41st Street. There's vintage Coke memorabilia on the walls and butcher block tables all around, but you're not here for the decor.
You're here for the franks—each one gets an injection of PBR before being cooked in a bath of the stuff, giving them a subtle hoppy note. And then there are the 26 toppings—ranging from the usual (sauerkraut, pickles) to the not-so-usual (peaches, mandarin oranges).
So if you're fueling up before a night out, go for a fortifying
Miami Heat
topped with chili, pickled jalapeño and wasabi mayo. But if you're feeling nostalgic for your last deli-style feast (or it's after midnight and you've got to soak up the last few hours), you'll want to stick with 
The Reuben
, topped with pastrami, sauerkraut and Russian dressing.
Either way, they've got around 30 rare brews—including a Vermont-brewed hefeweizen and an Ohio-made Russian stout.
You wouldn't get Russian stout from anywhere else.