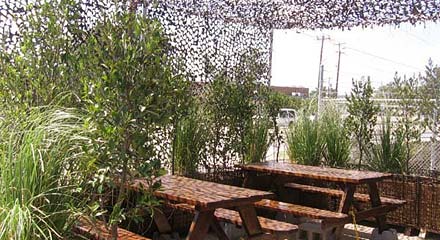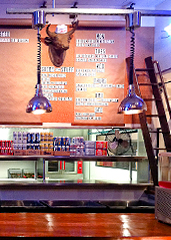 A possible New Year's resolution: to experiment a little.
Maybe change up the haircut. Bring some new treats to the nightstand. Join a glow-in-the-dark jai alai league.
Oh, and take your lunches in a cutting-edge lab of meal-science research...
Meet
Off-Site Kitchen
, a grab-and-go spot based in the Neighborhood Services R&D kitchen, opening in the next two weeks in the Design District.
You're familiar with Neighborhood Services (and the waitstaff's eye-catching sweater vests). This is their culinary lab, where they do Nobel-worthy work in the field of pork loin ribs. And now, they're sharing the bounty from their backbreaking research with the world at large. By which we mean you...
To be clear, these glorious edibles are designed for takeaway lunches. (Tip: they have picnic tables outside.) So inside, it's nothing fancy—just a small room with a counter, some neon beer signs, a few meat hooks and some bull heads guarding the menu on the wall.
The real draw is the food. We're talking lifesaving breakfast burritos, filled with six eggs and (critically) corned beef hash. Or a rib eye sandwich and a gratis vanilla ice cream cone, ideal for a working lunch.
And for those days when you can stay awhile, claim one of the aforementioned picnic tables outside with a sixer of Texas beer and a cheeseburger.
You also resolved to eat more cheeseburgers.