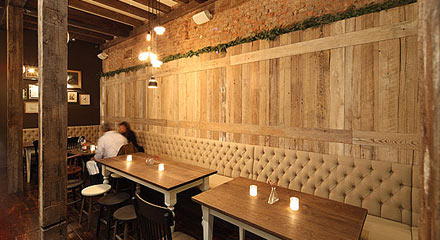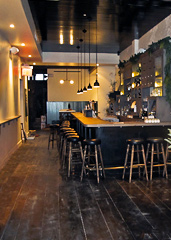 Stop us if you've heard this one before.
A bar opens on the Bowery.
Its cocktail list features walnut bitters and boiled Vermont cider.
Its pint glasses are occasionally filled with prawns.
There are Persian rugs.
And it's open till 4am.
You didn't stop us...
Welcome to
The Wren
, a new bi-level,
late-night gastropub
from the Wilfie & Nell folks that's Irish in all the right ways (no to live fiddle music, yes to Guinness-braised steak pie), opening tonight.
If Wilfie & Nell's track record is any indicator, this countryside-looking cabin will function like a wayward home for the unattached. Or those looking to mingle among plush green banquettes, wood plank booths and jars of pickled oxtail.
In order to get the full experience, you'll want to split your time between the upstairs and downstairs dueling bars (the latter will be open in a week). You'll also want to try a heritage pork sausage sandwich with burnt-onion mustard and a
Grown Up Rum & Coke
with housemade chinotto soda. Thankfully, they'll be serving both here till 4am. So pace yourself.
It's all about distance. Not speed.