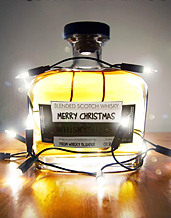 Today's topic: whisky. Specifically, the kind with just the
y
.
You could sit around all day talking about its smoky, vanilla-y, distilled majesty.
Or you could just start making it.
Introducing
Whisky Blender
, a site where you'll create a scotch blend to your own exacting standards, awaiting your instruction now.
So yeah: as of this moment, you're basically a whisky baron. It all started with a couple of guys who liked scotch and figured: a) you might like to invent your own blended scotch, and b) you don't own a distillery (you'll forgive the presumptuousness). So they talked to a Master of Malt titleholder, got him on board and set off to find the best single malts in Scotland. Then: they did. That's where you come in.
First: you'll decide which whiskies to add (the peaty
Smoke on the Water
, the creamy
Vanilla Fudge
, the obvious
Banana Split
). Then you'll add them into your theoretical bottle, a little bit at a time (use your instincts), until you've got a rich, golden 700 mL representation of your desired blend.
Now obviously your whisky needs a name ("Whisky Business" has a nice ring), so you'll give it one. Then, in a couple weeks, your new
child
custom scotch will arrive at your door.
If only there were some kind of upcoming occasion for drinking it.