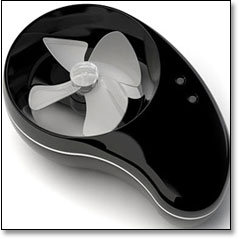 As the final summer winds begin blowing across Lake Michigan this Labor Day, we know you'll want to wring out every last drop of energy the season has to offer.
Now if only you could bottle it. Or...fan it.
Introducing
HYmini
, a micro wind-turbine battery charger for your portable electronic devices capable of harnessing the most renewable source of energy we know: you.
When you're riding your bike along the Lake Shore path, clip the HYmini to your handle bar to let the breeze spin its tiny rotor. Or use the armband to fasten it to your biceps to get the turbine spinning while you jog.
Depending on your velocity, as little as 30 minutes of turbine spinning can build up enough charge in its lithium-ion battery to put some spark back in your cell phone, iPod or digital camera. (All your devices will hook up to it, thanks to a veritable RadioShack's worth of included adaptors.)
But let's face it, on Labor Day you'll probably opt for activities a bit less labor-intensive—say taking the runaround for a final cruise on the Lake. Good thing the HYmini also has a backup solar panel accessory, just in case you and your companion never make it out of the dock.
You know, because you're sunbathing.