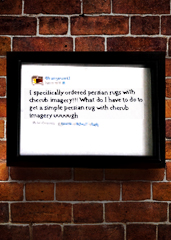 Fur pillows are hard to actually sleep on.
Something, obviously, you already knew.
For one thing, it's common knowledge. For another, you follow
@kanyewest
, unquestionably the greatest chronicler of modern life's little everyday problems.
To underscore the wit and wisdom of this hip-hop Erma Bombeck, we present
Hand-Stitched Kanye West Tweets
, accepting orders now on Etsy.
The next time Yeezy lays down one of his pearls of folksy wisdom on Twitter—you know, something that would look great on an embroidered piece of white cotton and then framed—this is your go-to source.
Some suggestions from the Kanye compendium:
Sometimes I get emotional over fonts.

I specifically ordered persian rugs with cherub imagery!!! What do I have to do to get a simple persian rug with cherub imagery uuuuugh.

Man ... ninjas are kind of cool ... I just don't know any personally.

I'm sorry Taylor.
A word of caution: these things are currently on back order. And since they're sewn by just one person, that means you won't be able to get these hand-stitched tweets in time for Christmas.
Which, actually, sounds a lot like something Kanye would complain about on Twitter.