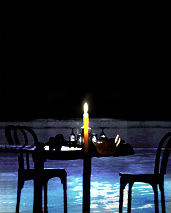 There's this guy we want you to meet.
Wears a tuxedo almost all the time.
And, strange as this may sound, he's about to put on a pair of ice skates, saber a bottle of champagne and serve you dinner.
Stranger things have happened...
Welcome to the
Fire & Ice Dinner
, a private, six-course repast served by your very own gliding butler in the middle of the St. Regis ice-skating rink, accepting reservations now through the holidays.
In order to take part in this little icecapade, you'll need to start by putting in a quick call to the St. Regis and lining up your preferred time and date (speaking of dates, might want to line one of those up, too).
And once that's squared away, you'll head to the Astor rink, where your candlelit table for two will be waiting on a sheet of freshly Zamboni'd ice. Enter your personal butler for the evening... the tuxedoed one we were talking about earlier. He'll skate up to you, saber a bottle of champagne and propose a celebratory toast.
From there, course after glorious course will be ushered out to your table by skating servers. And when the ice shavings finally settle, you'll grab your date, strap on some blades of your own and have a one-on-one skating session. And if that doesn't work...
Never mind, it'll work.