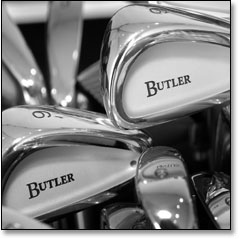 Your golf game is solid. You swing and putt like a pro. Unfortunately, your clubs are all wrong. They don't get you. They don't understand your nuances.
It's time you got a set that did.
Say hello to Dr. Grip, the world's only designer, manufacturer and custom fitter of golf clubs. And here's the sweetest part: He's right here in Half Moon Bay.
Dr. Grip has a loyal following (we hear Vijay Singh's a fan). And the guy is a torque expert—a retired mechanical engineer for Chrysler with stints in aerospace and semiconductor technology—so we think he can handle your slice. The catch is that since he only builds two sets a week, there's a wait list, so now's the time to give him a call.
Your half-day appointment will begin with a rundown of your game over breakfast at Three Zero Cafe. (After all, nothing launches a life-changing transaction like blueberry pancakes.) Then, back at his studio, you'll be hooked up to more wires and computers than Ivan Drago. As you hit upwards of 300 golf balls, the good doctor will assess your swing speed and launch angles, as well as things like flex-points and kick-points—all key factors in determining how you "load your shaft." (Try not to snicker when he tells you this.)
With your measurements in hand, Dr. Grip only needs a week to build you a complete set of irons, wedges and drivers. He'll even use his own Butler Irons, made with lightweight Japanese M80 steel shafts and some of the same driver shafts Tiger uses.
Speaking of which, you and Mr. Woods are due for another match...