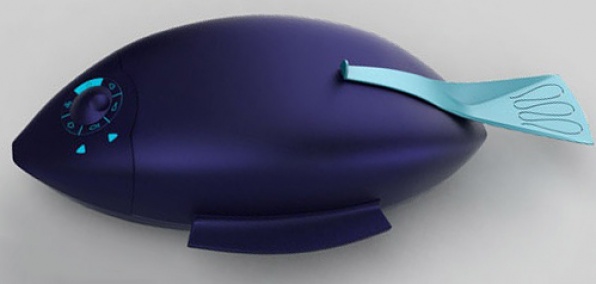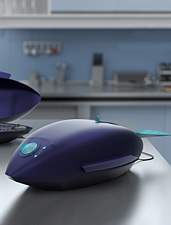 2012: the future. Also: mere days away. That being the case, we thought we'd let you know what you're in for. Submitted for your approval: a concept that could change the very fabric of your daily existence... if it's ever made.
Today's topic is smoked meats.
Specifically: the indefensible lack of them being produced in your household.
This just cannot stand.
So here's something to help... someday.
Introducing the idea of the
La Vobla Home Smokery
, an electric indoor meat-smoker for your kitchen that produces no smoke at all, hopefully available in the not-too-distant future.
Your place: great. You love it. Everyone does. But it's missing that certain backyard-dug-out-fire-pit-in-rural-Texas kind of quality that's normally necessary to produce mouthwatering pulled-pork experiences. Hence, this thing: a fish-shaped, fully filtered smoking device that takes a handful of wood chips and will, if ever actually created, churn out the kind of slow-cooked deliciousness that spontaneous moves to Memphis are made of.
The method: you'll open it up and insert your smokables (veggies, fish, chicken, and the big prizes, beef and pork). Then, you toss a few wood chips—hickory, applewood, chopped dining table, whatever's handy—into a small compartment in the side. Then you set it and wait. Then: meat happens. Smoked meat. It is so—right there in your face, awaiting a plate or a perfectly soft bun of some kind. The smoke: it's been taken care of by filters.
Because it's the future.