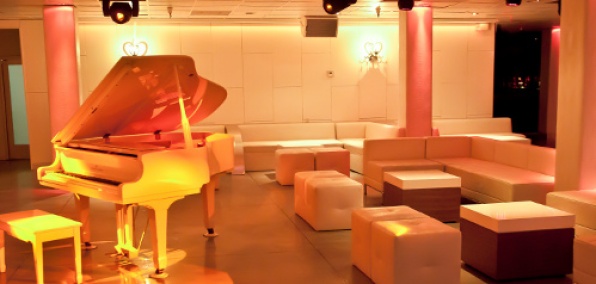 This just in: there's a secret underground network in Beverly Hills. And by network, we mean dance floor. Take a look at the opulent hideaway called Confidential, now open—here are the five things you need to know.

Fact #1: It's underground. Enter through some padded leather doors off Beverly Drive and go down a dark staircase. A bunch of crystal chandeliers will let you know you've arrived.

Fact #2: It looks good. You'll find yourself wandering several rooms—one's white, one's black, one's got a baby grand. It's all very elegant-Euro. Eventually, you'll realize you're in the former home of Aqua.

Fact #3: Your waitress looks like Grace Kelly. She's in chiffon and pearls, and she wants to bring you some Scottish Bucks (scotch, ginger beer, lime juice and bitters). You should let her.

Fact #4: Soon there will be happy hour. Before the month is out, their doors will start opening up at 6pm on Fridays for an industry-friendly happy hour with gin and tapas...

Fact #5: But for now, it's open later, three nights a week. Show up after 10pm with your group of friends, fun coworkers and/or Real Housewives, just in time to catch a breathy number by a chanteuse hovering near the baby grand. Then comes the DJ and things get loud. If you see jewelry rattling on Rodeo, you'll know why.