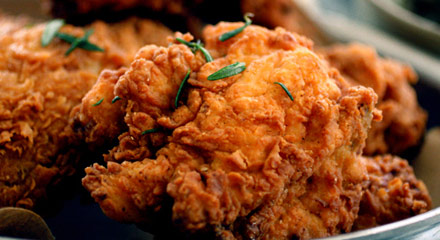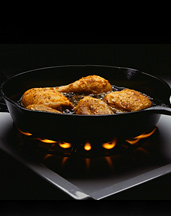 Let's pretend you're out.
This Saturday, for instance.
Your communal table is at capacity. Toasts are being caroled instead of spoken. Nathan Deal just bought you a shot.
But when the dust finally settles, you may or may not find yourself in need of some sustenance. An edible nightcap, if you will.
Something along the lines of fried chicken. And fried Oreos.
Which brings us to
Curly's Fried Chicken
, a late-night poultry shack built on the bones of the short-lived LeRoy's, now open on the Westside.
Yep. One fried chicken joint replaced another. Out with the old, in with the new. But aside from the fact that we're still talking about wings, legs and thighs from a takeout counter here, that's where the similarities end.
For starters, it's owned and operated by a family. More specifically, a jolly family of chickensmiths who want nothing more than to feed you at all hours of the day and night (they're open till 4am on Saturdays). So you'll see their names popping up all over the menu—Mama Jean's mac and cheese, Steve's Cajun rice, Susie's red velvet cupcakes.
But about that fried chicken. You'll head here post-witching-hour, make your way up the ramp and order from the window. A breast here. A thigh there. And if you showed up with sidekicks in tow, you'll definitely want to consider going full-bucket.
Or as you call it, breakfast.