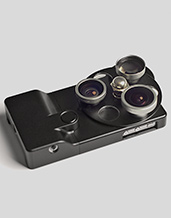 Your phone.
These days, also your de facto digital camera.
But sometimes you wish you had a proper lens to capture the moment. Or, say, three of them. On a dial. Built into your phone's case.
Take a guess where we're headed here...
Presenting the
iPhone Lens Dial
, your new way to up your available iPhone lens cache by three, available now.
We imagine the genesis of this wonder product went something like this: a person walked into the eye doctor's office for a checkup. While there, he started trying to think of a way for his phone's camera to offer multiple lenses. Just then, the doctor entered and began switching lenses on that eye-machine thing with the dials. Eureka.
So the next time you're moonlighting as a private detective à la
Bored to Death
, you'll want to take this with you. When you've got the mark in your sight (a billionaire's cheating mistress), you'll snap on this case and choose from three lenses—wide-angle, telephoto and fish-eye—by rotating the dial (note: go fish-eye, obviously).
It also comes with a tripod mount, which is handy for those days when you're photographing Ansel Adams-esque landscape portraits of the Southwest.
Or when you're shooting your dog playing the piano.