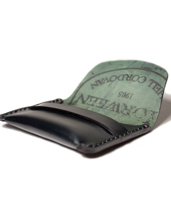 That wallet of yours has gotten quite a workout lately.
Gifts for the family. Christmas tree insurance. That panther-skin Santa suit.
So it should be obvious by now that the answer is a new wallet.
About that...
Here's
Chester Mox
, a very Englishy-sounding American outfit making wallets that are all kinds of handsome, and making them for you now.
First things first: a lot of these are made with leather from the Chicago tanning gods at Horween. You
probably
know
them
for their top-notch shell cordovan, their Chromexcel and, of course, the footballs they make for a little footballing outfit known as the NFL.
Once Mox gets this leather, they do some wizardry involving cutting, dipping things in wax and stitching things by hand—all to bring you a bunch of different takes on the thing you'll use to hold money and ID for the next decade or so. (Classic bifold, trifold, wiry flap and, of course, the brogue.)
Everything is made-to-order, so naturally you'll be having yours laser-etched with your name/nickname/nom de plume. And finally, you'll choose whether you want the dollar- or euro-sized model.
Maybe wait and see on that last one.