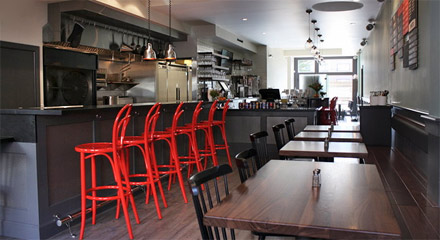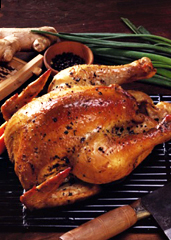 Picture it: you're heading to a 10 o'clock date-night flick at Sundance, tickets in hand, seats selected, martinis on order.
Another solidly successful dinner-and-a-movie night all but guaranteed.
Right, forgot dinner...
Introducing
Roostertail
, a cozy, modern tabernacle of roasted meats—at the ready for
a quick bite
before or after the movies—opening Wednesday steps from the Sundance Kabuki.
So yeah, if you're wanting a low-key dinner outside of the theater environs, a two-block jaunt here will work nicely. And while the main focus leans toward the original white meat, you'll also find beef brisket, wings and ample amounts of bacon (or what you like to call "the real stuff").
Head inside the long, wainscoting-lined Victorian flat and take over two of the cherry-red stools at the black granite-topped bar toward the front. There's a big flat-screen at the bar if you want to warm up for the upcoming bigger screen, and wines by the carafe as a preview to the martinis.
You could show your chicken-allegiance, and get the crispy wings or half a bird. But if she takes the more gluttonous route and gets the cheesesteak sandwich with a side of warm bacon slaw, try to control your jealousy.
And on those days when the weather permits, you'll want to make a beeline to the soon-to-open back patio and keep the carafes flowing.
The movies will always be there.