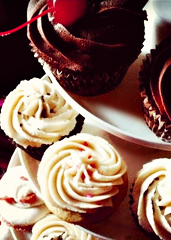 You've got this bar-going thing down pretty well.
Carefully researching the tap selections before your arrival. How you always maintain lines of sight to the bartender and oyster shucker. The strategic employment of shepherd's pie at just the right time.
So you also need to stay on your game with the latest in cocktail delivery systems.
Cupcakes soaked with liquor, for instance.
Yes,
Crunkcakes
are being served now at several of your favorite H Street bars.
Until recently, you could only sample the wares of this local baking collective (which is also called Crunkcakes) by placing a special order, or if you caught them at a word-of-mouth bake sale.
But now these cocktails in booze-infused-cake form are serving as your nightcap
and
your dessert
all over H Street
.
After diving into a bowl of ramen at Toki Underground, you could head downstairs for an
Irish Car Bomb
cupcake—that's Jameson-infused Guinness cake and Baileys buttercream icing—at the Pug. Across the street at Star and Shamrock is where you'll find
Nutty Irishman
cupcakes—chocolate hazelnut cake infused with Frangelico and stuffed with Nutella.
And lest you think that edible cocktails are a nighttime pursuit only, you can always find the
Drunken Punkin
(pumpkin spice cake infused with rum and topped with vegan vanilla vodka buttercream) and the not-at-all-subtle
Boozy Breakfast
(bacon cake infused with maple whiskey and maple whiskey icing) at SOVA.
It's more understated than your usual moonshine latte.