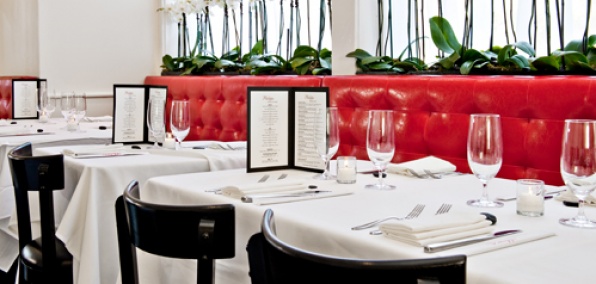 It's nothing to worry about. Really, no big deal.

But you've got a dinner thing tonight with a couple Italian gallerinas, three performance artists from Estonia (where modeling is considered art) and a certain Tower Heist director. (You're not sure who invited Ratner, but... the more, the merrier.)

As for where to take them: welcome to the SoFi outpost of Philippe Miami, ready to ply you with Peking duck and lychee cocktails (again), opening tonight.

So yes, the sexy dumpling temple has reopened after closing its Gansevoort spot earlier this year. Now Chow's taken over the old Taverna Opa space and glossed it up with his trademark black-lacquered bar, red leather booths and white chandeliers. So it works for a drinks-with-the-fashion-crowd scenario that rapidly segues to Beijing-style feasts of Crispy Beef, lobster and those crispy seven-pound Peking ducks they do so well. (You love the little crepes they give you with those.)

You'll also find a few new things here, like a retractable roof, an open kitchen (where you'll catch that nightly hand-pulled noodle show) and a private wine room for you and three dozen friends.

In case Ratner has an entourage.