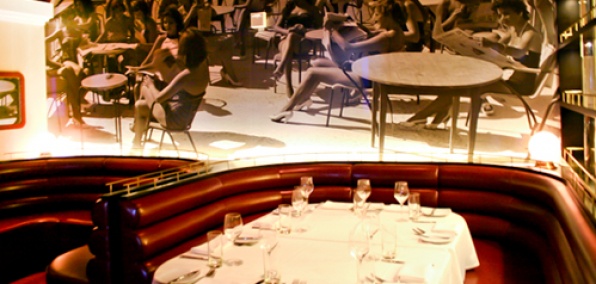 Bond.

James Bond.

We'll assume you're familiar.

So when a place comes along and claims inspiration from 007 himself, we consider ourselves duty-bound to tell you more...

Say hello to Vesper, a dark and sexy hideout inspired by the UK's finest made-up secret agent, tucked away in the revamped Shelborne hotel and opening tomorrow to graciously accommodate your next big date.

First, meet Fabrizio. Actually, you two go way back, seeing as how he used to work the door at the Florida Room and a plethora of South Beach clubs back in the day. His job: to lead you through the restaurant's kitchen and into the inner sanctum of Kobe sliders and shrimp cocktails.

There lurks a yacht-like lair outfitted in wood paneling, curved banquettes and giant black-and-white vintage photographs of Miami. It's the kind of chivalry-is-not-dead type of place that you'll reserve for a date who's into charbroiled, 22-ounce rib eyes and dry martinis. (Upping your date's iron count: always a good thing.)

Which brings us to the name—it's a Casino Royale reference to Bond's favorite style of martini.

Because "Fuzzy Navel" just didn't have the right ring to it.