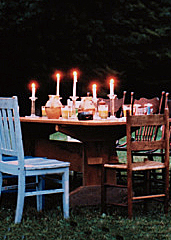 This weekend, your presence is requested at a dinner party.
In a secret location.
Called the Goat Farm.
Okay, so it was
supposed
to be a secret location.
But considering the rest of this little tableside soiree is pretty much top-secret until you get there, we figured we'd at least give you something.
Oh, and one more thing... there won't be any fried chicken.
Which probably explains why it's called the
Anything But Fried Chicken Sunday Supper
, a four-course mystery fete helmed by chefs Julia LeRoy and Joe Truex, taking reservations now for this Sunday night.
First, about that name. Truex was known for his fried chicken at Watershed... then it closed. LeRoy was known for her fried chicken at LeRoy's Fried Chicken... then it closed. And we'll just leave it at that. But considering they've also earned stripes at spots like Repast and Woodfire Grill, feel free to expect big things in the non-poultry department as well.
So to that end, you'll head to the Goat Farm, rendezvous with about 50 fellow adventure seekers and meet the good chefs in the Warhorse courtyard for some spiked apple cider, champagne and, of course, a cheese straw bar (don't ask, just consume).
From there, it's off to the Rodriguez Room for four courses of cloak-and-dagger amazingness served family-style (think pork dishes from Riverview Farms and beefiness from White Oak Pastures), all paired with wine.
Not chicken.
Note:
Anything But Fried Chicken Sunday Supper, at <a target="_blank" href= "http://www.facebook.com/pages/The-Goat-Farm-Atlanta/162337850449783?sk=info">The Goat Farm</a>, $85, Sunday, <a href="mailto:thedeviantchef@gmail.com">email here</a> for reservations