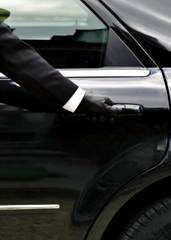 Your whole five-holiday-parties-in-one-night thing can be daunting. The ladles of punch. The canapés. The ambassadors' wives and their names.
Also: trying to hail a cab in front of every embassy, office building and dive bar on your journey.
What you need: a Bat-Signal that sends a black town car tearing off in your direction at a second's notice.
Or failing that: a smartphone app that does the same thing.
So say hello to
Uber
, a turnkey service that puts a fleet of black cars at your beck and call, beta testing now and taking members under the radar in DC in advance of an official launch in mid-December.
This is the luxury motor pool (and team of chauffeurs) you never knew you had. You'll just download the app, give them your credit card info and then... do nothing. At least until you find yourself on the upper reaches of Mass Ave wanting nothing more than to get out of the upper reaches of Mass Ave.
Then, just when you'd normally begin waving your arm uncontrollably at traffic, you'll whip out your phone and set your pickup point on the map. Uber sends the closest available driver, then texts you his ETA so you know if there's time for a little extra elbow rubbing. You'll even be able to track the car en route.
When it arrives, the fare and tip will automatically be billed to your account, and the driver will take you anywhere you want to go.
Oh, and it's called Uber.