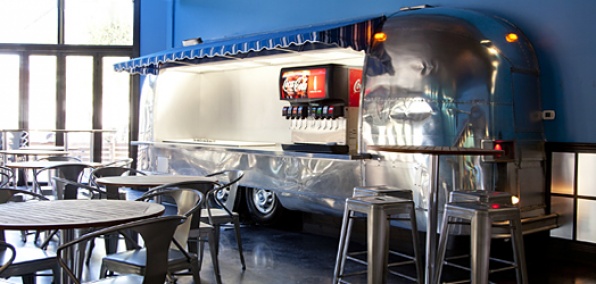 The scene: 2am in Uptown.

You just finished an encore round of karaoke at Uptown Bar & Grill. ("We're Not Gonna Take It" killed. Again.)

Naturally, you're craving one thing: corn dogs.

And as it just so happens, we know a place...

Introducing The Stand, an Uptown restaurant with a food truck trapped inside, slated to open late next week.

Picture a vintage Airstream trailer. Now cut it in half with a chain saw. Then park it inside a blue room with some hot dogs, a couple kegs and burgers from a Bread Winners alum. Then you have it: a beautiful junkyard mixer. Also: this place.

You'll come here for one of three reasons. One, for a quick lunch, when you can power up with a Nathan's hot dog wrapped in bacon then drowned in chili and topped with fried mac and cheese. (It hasn't been named yet, so ask for the UD special. Seriously.)

The other's before an evening of McKinney Avenue debauchery, when you'll want to claim a wooden table by one of the seven flat-screens. Settle in for a Mavs game, a pitcher of Shiner and a couple brisket tacos.

Or if you're searching for something to ease the pain of the next morning, go with a corn dog with a side of sweet potato tater tots.

It's like Advil you can dip in ketchup.