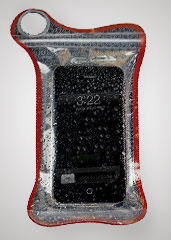 Your phone has been through a lot:
The ringing. The texting. The time Tiger thought it was his phone.
It's time you got a little more protection for it.
Introducing the
BubbleShield for Smartphones
, a reusable, waterproof sleeve to protect your phone from dirt and impromptu cannonballs, available now.
This is basically like sliding your smartphone into an airtight Ziploc bag, but one that still lets you talk or text through the bag while you're underwater. (You're not one to let a little whitewater rafting stand between you and checking your messages.)
Here's how it works: toss your cellular device into this thing and—this is key—seal it shut. At that point, you'll be able to do anything from sending photo texts in the middle of a monsoon to handling work emails while running from a snowball ambush. (Your investors are testing snowball launchers... again.)
Come spring—and days that require more tanning oil—you'll want to use this glorified baggy to hold your phone during any impromptu Marco Polo games.
Also great for conference calls on the diving board.