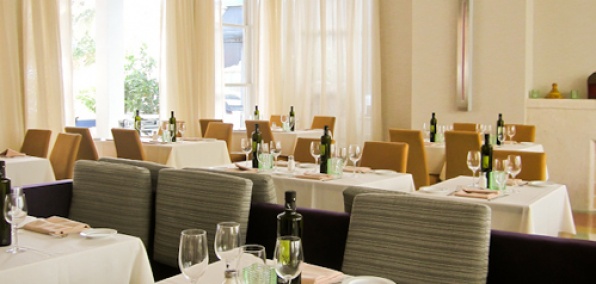 When you think of Italy, you think great wine. Fresh pasta. Windswept courtyards.
And the faint strains of bikini-wearers cruising past you in tricked-out lowriders...
Okay, maybe not. But after tonight, you might...
Which brings us to 
Nine
, an alfresco Italian enclave now open at the Hotel Breakwater—and your new excuse to sit outside on Ocean Drive.
So yes, it's time to take the touristy strip back from the T-shirt hawkers and the daiquiri swillers. This place is ready to impress. The chef's from the Amalfi Coast. He worked at Escopazzo. And he makes his own bread, pasta and burrata cheese in-house. (You've always had a soft spot for homemade curds.)
There's a tasteful dining room inside the hotel (actually, it's the lobby) with polished terrazzo floors and cushy purple couches. But we'd like to draw your attention to the lush outdoor terrace.
This is where you'll go on lazy evenings when you feel like sitting outside and sharing a bottle of chianti with good company while supping on
rustic, greatest-hits-of-Italy cuisine
: say, bowls of tagliatelle pasta with lobster and chili sauce.
And should the situation call for it, there are plenty of hotel rooms upstairs.
You know, in case you get tired.