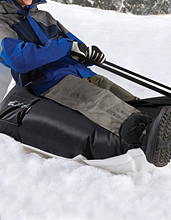 When it comes to sledding apparatuses, you've employed your fair share through the years.
Age 6: Your first all-plastic disk sled (still a classic).
Age 12: Arlo, the family dog (he was cool with it).
Age 19: Lawn trash bags (that hill behind the Geology building was the stuff of legend).
And now, bean bags. Made by the Italians. And actually
meant
for sledding.
Presenting
The
Bean Bag Sled
, your chance to careen down a hill on something that's usually resigned to dorm room furniture, available now.
Consider this the ultimate realization of the potential held in every mushy bean bag chair you've owned since college, only with a twist. That twist being: a) it's got an inflatable core for more cushioning, and b) it was designed by Italians from the Abruzzo region (warning: "Can I ride your bean bag?" has a far different meaning when directly translated to Italian).
So picture it: a fresh snow has dusted our lands. You've arrived flask-in-hand at
Jericho Hill
, and used a hand pump to inflate the air bladder, which is surrounded by thousands of 2mm spheres (aka: the beans). You say a prayer, grab the hand strap and let the slick underbelly made from meshed 100% polyester do the rest.
You've always relied on the kindness of 100% polyester underbellies.