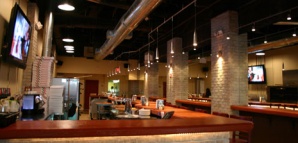 Behind every good pizza, there's a baker with a dream. And, preferably, gold chains and a Brooklyn accent.

You'll find all of the above at Pizza Bar, your new late-night snack spot just opened in South Beach.

The brainchild of the folks behind OLA and the Sanctuary, Pizza Bar is part take-out counter, part trendy pizza joint. Sand-colored brick walls, a refined wooden bar and flat screens that endlessly loop movies starring Pacino or De Niro create a polished, badass vibe. If AJ Soprano opened a pizza place, it would probably look like this.

Baker Vito Giovinco is in charge of this Miami-style slice. With full-sleeve tats and a coif that would make the Fonz blush, he's a Sicilian pizza man with a Bensonhurst bent. His 30-inch pies have a uniformly thin crust topped with San Marzano tomato sauce and are baked in a slate oven for a golden finish.

The place is open until 4am on weekends, so you never know who you'll run into after a night of debauchery. Given its location—walking distance to most clubs and hotel bars—you'll catch a variety of models, moguls and mortals chowing down.

And with any luck, AJ's ex-girlfriend.