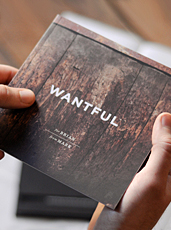 Don't panic.
But you're down to about a month to find a game-changing gift.
One idea: let your old friend the Internet take care of it...
Introducing
Wantful
, a site that makes you look thoughtful while it does the work, online now.
Combine the spirit of giving with the unadulterated joy of Mad Libs, throw in a handmade leather bag and some steaks, and you've got this. (More or less.)
We should probably explain. You're about to go on an odyssey of discovery in the form of an exhaustive series of photos, questions and fill-in-the-blanks—all about the person you're giving a gift to. (Now we know what you're thinking: "I bet they don't ask if the giftee would like to live in a yurt." You couldn't be more wrong.) At the end of this grueling process, you'll get a list of 16 carefully chosen gifts based on your answers.
So let's say you're shopping for a certain ex-Mrs. Kutcher. You'll hop on, tell Wantful you know her "very well," that she enjoys cooking, that her style is on the mature side and that she's not into the Internet (something about "that tweeting f*****").
In a few days, a personalized catalog will arrive at her door, and she'll choose the gift she likes best (or opt for a charitable donation).
She'll probably
 (verb) 
 you for it, too.