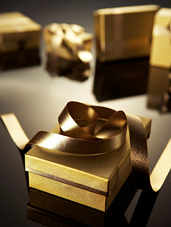 The holidays are about many things.
Comical amounts of food. Family, if you're into that. The unqualified cinematic masterpiece known as
Elf
.
But mostly, they're about total Secret Santa victory.
Which brings us to
Goodzer
, a site that will hunt down and map gifts anywhere in America, launching today.
It's basically a search engine for any product you desire, even if it's not sold on the Internet (if you can imagine such a thing). If this sounds familiar, that's because
it's been available
in a little test market called New York City for about a year now. It's user-populated, so you may not be able to find everything you're looking for right away—but you should be golden in time for Christmas, Hanukkah and/or Festivus.
Here's the deal. You'll search for a product—say "robot cocktail butler"—and enter a location. You'll adjust the search area up to a 50-mile radius. If such a magnificent melding of technology and artisan bitters exists, Goodzer will sort out where and for how much you can get it (for someone else, of course). Then, you'll call up the purveyors with an offer they can't refuse.
Asking them nicely might also work.