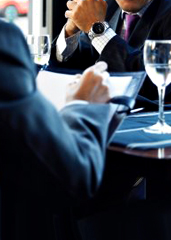 Let's talk about that elevator pitch of yours. Frankly, we think it's got potential.
We're talking three-picture-deal potential. Major-VC-infusion potential. Groupon-level-IPO potential.
Our advice: expand it into a full-fledged lunch pitch immediately.
For that, we present
LunchMeet
, an iPhone app that leverages your far-flung LinkedIn network into power lunches with any CEOs, bankers, power players and/or eager investors in your general vicinity, available now.
Now, chances are you already have a LinkedIn account. You aren't exactly sure why, but you do. Oh, sure, there's that warm feeling you get as you provide a recommendation for one of your former protégées. And don't get us wrong: we'd never underestimate the value of warm feelings. But lunch is where things get done. It's also where steak gets eaten and where martinis get sipped.
You'll log in using your LinkedIn profile and set the time and place you'll be having lunch. Now one of two things can happen: you can see a general description of potential lunch partners nearby, by title and industry. Send them a quick IM and get the ball rolling. But of course, you can sit back and let people request a date with you.
But we warn them: they'll have to arm-wrestle for the check.