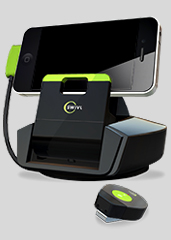 You're a moving target.
Hustling. Bustling. Preparing lobster thermidor for two while iPhone Skyping with Paula Deen about butter technique.
That last part: tricky.
Not to worry, though. We found a robot to hold your phone when you're busy.
Say hello to
Swivl
, a 360-degree rotating mount for your iPhone or Flip cam with a built-in sensor that lets your camera automatically follow you around, available now for preorder.
It's like hiring a robot director to film your life (or at least your Skype and FaceTime conversations). Here's what you'll do:
1) Go online and preorder this thing—it doesn't ship until early next year, but you'll want to pre-stake your claim sooner rather than later (they're going super fast).
2) When it arrives, open the box.
3) Attach your phone on the mount and clip the tiny tracking device somewhere on your body. It's so your phone can swivel (see what they did there) around and keep tabs on you wherever you move.
4) Video chat with someone while running wind sprints around your phone. It won't miss anything.
Of course, you could always just set one of these up in the office and launch a hands-free video conference without having to move your laptop around the room.
Or fire Scorsese, depending on which method you were using.