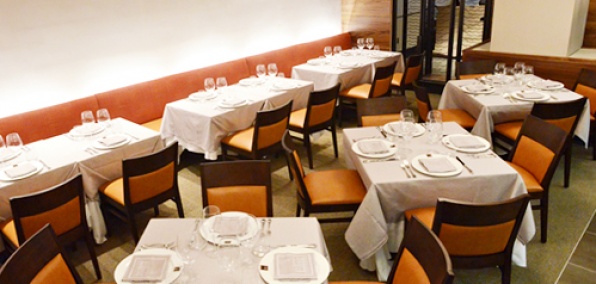 Your tech savviness knows no limits. (Seriously, the way you control your pool's temperature from the touch screen on your motorcycle: inspired.)
Well, almost. Your multicourse Italian tasting menus are still woefully lacking in futuristic innovation.
Lest you start feeling bad about yourself, we've got a way forward. And it's called
Elisir
, brought to you by Teatro Goldoni's former chef and taking reservations now for a November 21 opening.
Here, you'll find all the chef's tables, leather seating and wine racks you've come to expect from your big-date spots. But you'll also find a little cutting-edge spirit. Like a wine list that comes on an Android tablet, a tableside wi-fi bill-paying system—oh, and five HD monitors throughout the restaurant that broadcast what the chefs are up to (hopefully plating your food, not playing poker).
Speaking of food, you'll want to
post up at the bar for lunch
for Italian bistro fare like Tuscan-style veal stew. But when you've got something on the line, you'll be back at night. Start with a barrel-aged cocktail or a housemade sparkling Negroni, bottled on site, before moving on to the seven- or 10-course tasting menu. Think branzino carpaccio, smoked in a cigar box on its way to your table. And all manner of pastas, meats and fish, complete with lab-worthy finishing touches like black truffle froth, rosemary air and dark chocolate fumes.
You usually run on fumes.