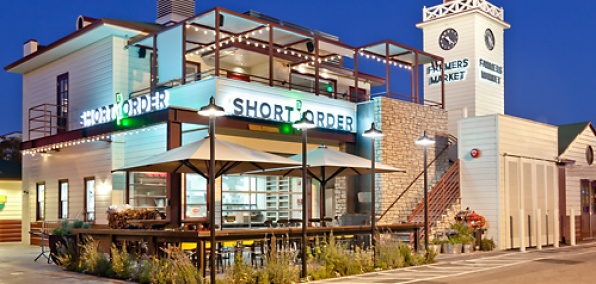 You'll have to excuse us. This one just couldn't wait any longer. You see, it involves burgers.

Finally, it's time to talk about the year's most anticipated burger joint—Short Order opens next Friday at the Farmers Market. We repeat: mark your calendars. Call your carnivorous friends. November 18 at 5pm. It's on.

In case you've been drowning in Kardashian updates, allow us to remind you that Nancy Silverton is involved with this burger. As in the Mozzas. As in, if she and her partners can now do for burgers what the Mozzas have done for Italian... well, you're going to really like this place.

You'll find it on the Third Street side of the Farmers Market next to the Grove—it looks like a rustic two-story farmhouse. But this is the first farmhouse with a walk-up burger window. (That we know of.) So quick lunch takeout: they can do that.

But we recommend coming over here after a movie and stowing away in the upstairs dining room. Order some drinks. Fill up your table with custard shakes, pies, chocolate chip cookies. And absolutely order the namesake burger. The veggie-fed beef's mostly from Sonoma farms—some providing just six animals a year. You've got a few topping options (mushrooms, bacon), and your patty could actually be lamb, tuna, turkey or pork.

Consider this your burger homework assignment for November.