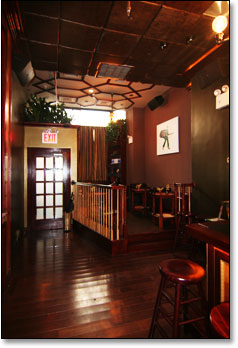 Throwing back a few after work is a time-tested tradition on par with 
Summer Fridays
 and three-martini lunches.
A tradition that you've always been more than gracious about honoring.
So when a new option opens up, even in the former home of Tiki Bar and Prey, you'll give it a chance (in the form of two or three drinks). Introducing 
Catch-22
, your new Flatiron post-work drink spot.
Because you like your after-work drinks with a theme, they're giving you one: WWII and the post-war '40s (think of it as "roaring '40s"). You'll catch a little bit of the theme (an army helmet behind the bar, some soldierly art, perhaps the most impressive chalkboard we've seen in the city) and a little bit of the...not theme: an interior velvet rope sectioning off an upstairs lounge/crow's nest.
But you'll like Catch-22 as an impressive after-work drinking option where you can take back a couple of old-fashioneds while noshing on gourmet bar grub, like the
Allied Cheese Plate
and the
Axis Cheese Plate
(go Allied).
They'll be doing "VIP" in the upstairs lounge, but that's not the move here—use the dimly lit back of the room for work-related trysts and stick to the front otherwise, where you'll find a beautiful old foosball table in action.
Perfect for staging your own war.