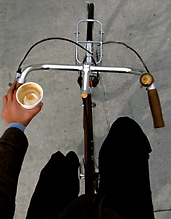 Once upon a time, you were born.
It was a glorious day. People rejoiced. There was confetti.
Then, after several years of life, two guys came along and delivered coffee to you on bikes.
And you lived happily ever after...
Meet Zechariah and Joshua, the pedal-pushing gurus behind
Bike Guy Coffee
, a new service that delivers tightly sealed mason jars of coffee beans to wherever you happen to be, now rolling through most points ITP.
They're just two guys who ride their bikes around town delivering coffee. Simple. Brilliant. Gives you the perfect excuse to say something like, "Excuse me for a second, my coffee guy just pulled up."
Once you call and set up a subscription, you'll receive either a quarter- or half-pound of their "current crop" twice a week—right now it's
Ethiopia Wet Process Gera Jimma
(go with it). And once you've established a time and place for delivery, they'll throw your beans in a bag and ride out Regulators-style to your exact coordinates.
Upon arrival, they'll even brew your coffee for you (note: office deployment of this option is highly recommended) and teach you all about what you're drinking.
Right now, Midtown, Downtown and all points east are fair game, but they'll be opening up to all areas (hang tight, Buckhead) as things progress.
We assume they're pretty fit.