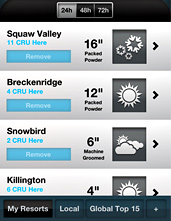 Don't let this weather fool you.
The slopes are open, and they call to you.
Now you just need to decide which one deserves your immediate attention.
This should help:
Snocru
, a brand-new, Boston-based, free iPhone app that's like a snow report for 1,500 ski resorts, available now.
Picture it: you're lounging in your game room in your Egyptian cotton PJs, deciding if it's a Killington day or a Breckenridge day (it helps that you have a plane).
First, you'll open this app. It'll give you the top 25 snow dumps on ski resorts around the globe, but it'll also work off your phone's GPS to provide trail conditions at the 15 closest resorts to you (ideal on those "went out in Boston and woke up in Austria" mornings).
Once at the slopes, you'll check in Foursquare-style to find other Snocru users on the mountain. IM them to shred together (check their profile first) and track your top speeds and vertical feet covered (on the slopes, not your double backflips).
And if you find yourself on a lift with a Lauren Holly circa
Dumb and Dumber
look-alike, you'll use the app to locate the closest après-ski lounge.
Or you could just ask someone where the après-ski lounge is.