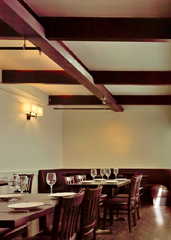 Inspiration can come from anywhere.
And if you believe that, we have a new restaurant for you.
A little place that pays homage to the legendary culinary mecca that is...
Suburban Westchester County, New York.
Introducing
Dobbs Ferry
, a maze-like watering hole and family-style eatery inspired by old-school hangouts in small towns along the Atlantic Seaboard, opening Monday in Hayes Valley.
If you're thinking that this is not what springs to mind when you think of expanding your culinary horizons, well, you're right. Instead, what you'll get is a mishmash of the tiny, easygoing restaurants dotting the countryside in New York and New England.
No-nonsense cocktails
, a decent eggplant parm and a respectable riesling from the Finger Lakes.
Now, if you hail from out there or know someone who does, you'll want to drop in on an especially brisk fall day to catch a game over rounds of Coney Island Lager that might turn into rounds of
Choose Your Grain Martinis
.
On non-game days, the elevated tables under the backlit faux windowpane are good for getting some diner-style comfort food like stuffed shells and veal marsala. Or amass your buddies and request the big banquette next to the giant avocado tree in the main dining room for your feast.
Right. The avocado tree.