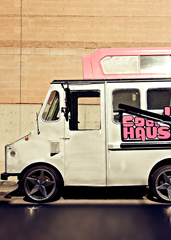 Today, we're taking you back to the ice cream trucks of yore.
The jingles, the brain freeze, the endless streams of bacon...
Oh. Your ice cream truck didn't have bacon. Sorry to hear that.
Correcting that colossal oversight:
Coolhaus
, the city's first mobile ice cream sandwichery, debuting in Wynwood next week.
Yes, ice cream sandwiches. Swirling around you. Available after late-night gallery jaunts in Wynwood, before catching a flick at O Cinema, while waiting for your favorite band to go on at the Stage.
It's a simple concept: take a dozen types of cookies (ginger, snickerdoodle, peanut butter) and more than 20 types of ice cream. Put them all on a shiny silver postal van circling the city. Let people mix and match to create their own desserts. Name them all after architects (hello,
Frank Berry
). Wrap them in edible wrappers (really). Rinse and repeat.
The trucks are already a hit in LA and NY (meccas of frozen desserts), and they've brought their usual variety down here: flavors like
White Russian
and
Dirty Mint Chip.
Plus, they'll be introducing some Miami-only ones like
Strawberry Mojito
and
Lychee Martini
sorbet.
They'll be at all the usual food truck meetups (Art Walk, BTTR), plus parked outside Cafeina and the Stage should you be in the mood for a late-night sea salt caramel on chocolate chip.
And hey, when aren't you.