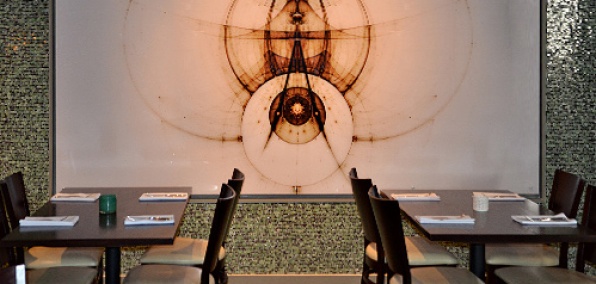 Consider the Swiss Army knife.
It's dependable. Built to last. And, most importantly, versatile.
Well, we found the restaurant version of that.
Minus the nail file. And maybe the toothpick.
Anyway, meet
Latitude
, a new sliver of a restaurant from chef Micah Willix of Ecco fame that's not only willing but fully able to rise to any occasion you can throw at it, opening Friday at Phipps Plaza in Buckhead.
So yeah, you've got a few deployment options here.
Take that first date, for example. You'll only find 19 tables inside, so there's not much standing between you, a glass of malbec (or about 50 other options by the glass) and whoever happens to be on the other side of that table. Grab some scallop crudo. Split some braised lamb shank. Do your thing.
But should the evening call for more... leisurely pursuits, you'll want to grab some friends, leave the Edison bulb chandeliers and cream-colored leather banquettes behind and make for the giant Peachtree-facing patio. There's a 15-foot communal table out there sitting under some heat lamps. Which means bottles of primitivo,
seared duck with bacon and shallots
, and beef kushiyaki for everyone.
Oh, and if your parents happen to pop into town (like they do), request one of the wine room tables back inside.
Parents love wine rooms.