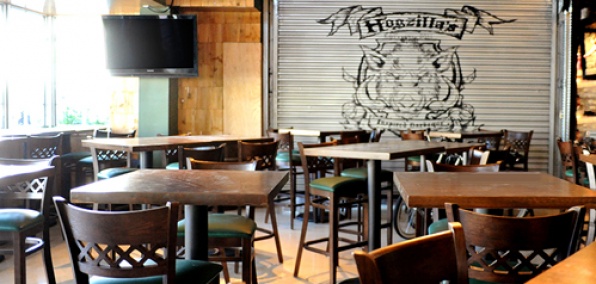 Aquariums can really set the scene.
The sharks at the Gansevoort. The jellyfish at the Hotel Victor. The Amazonian piranhas in your bedroom.
And now, the saltwater tank filled with frogs, catfish and turtles at this crazy new BBQ shop...
We're talking about
Hogzilla's Inspired Barbeque
, an unabashed, Everglades-style spot for whole suckling pig and late-night drinks, opening this Sunday in South Beach.
We know what you're thinking: sounds risky. But relax—this is from the guy behind SoBe staples like the Burger & Beer Joint and SushiSamba, so you're in good hands.
If a graffiti artist and a Southern belle got hitched, their home would look like this: pink alligator skulls with antlers and spray-painted baseball bats on the walls, hurricane shutters, that tank of swamp creatures and a few fake indoor trees (left over from its former life: Bar-B-Que Beach).
This is where you'll go when... well, anytime. It's open till 5am, so swing by for a nightcap after hitting Lincoln Road. Or
grab lunch here
with your business partners from Chokoloskee just to make them feel at home. Get a table across from the windowed smoker (it can hold 30 whole turkeys), and order up a round of bourbons. You'll dine on comfort foods like frog legs with mango chili barbecue sauce, gator sausage bites and
Redneck Tacos (
beer can chicken, pork, dolphin).
Well, assuming you consider frog legs comfort food.