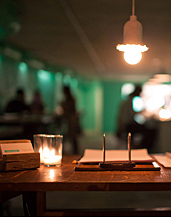 This town's got plenty of secrets. What really went on at Area 51. What J. Edgar Hoover liked to wear under his pinstriped suits. The coded message that 9-9-9 actually reveals once you crack Herman Cain's code.
Oh, and new prix fixe Thai menus. Very hush-hush.
At least they are at
Little Serow
, the new Thai spot from the owners of (and next door to) perpetually four-star
Komi
, expected to open to the public tomorrow night.
They're playing things awfully close to the vest, but here's what we know for sure:
One door over and down the steps from Komi, you'll enter a subterranean, rather Spartan room (concrete floor, sage green walls, big open kitchen in back). They don't take reservations, so feel free to grab a seat at one of the rustic-looking high-top tables for two (a big communal table also awaits).
You'll have plenty of choices on the beer and wine list (that's all they've got), but when you get to the food, things are pretty well set—in this case, seven courses of Northeastern Thai cuisine (the place is named for a small Asian goat) served family-style.
The menu: still under wraps and changing every week (soon you'll be able to
see it online
), but we do know they're focusing on spicy and sour flavors.
So hot and sour goat is a good guess.