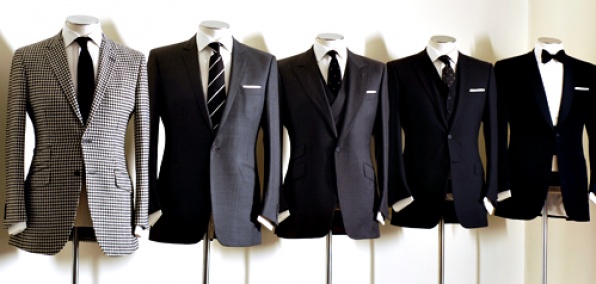 A quick list of the things Scotland has brought DC: Craig Ferguson at the White House Correspondents' dinner. A few thousand bottles of whiskey. The occasional haggis special at
Againn
.
And now: ultra-luxe, made-to-measure suits.
Say hello to
Peter Johnston
, available now at the Saks Fifth Avenue Men's Store Chevy Chase to prep you for winter with some British-style finery.
Your tailor: a Savile Row–trained Scot who until now only sold out of his town house in Edinburgh.
Your new clothes: what Connery would have worn in his heyday. Think ticket pockets on the jackets and side tabs on the trousers, cut from all-British-milled soft wool flannel, tweed and cashmere in subtle pinstripes and not-so-subtle plaids.
The process: similar to other made-to-measure services you may have used, but this time you'll not only pick your fabric, but your style as well. Like the
Carnegie
, a double-breasted, six-button peak lapel number. Or the
Nixon
, a single-breasted morning coat (they won't have you to kick around anymore).
And if you've just been invited to a very formal wedding in Glasgow, he also does a mean kilt. You'll select your plaid from a directory of family tartans, then turn things over to tailors, who spend 12 hours making 6,000 stitches by hand.
Five thousand stitches would be simply uncivilized.