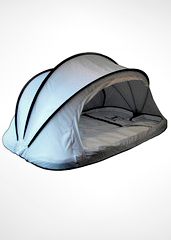 Sometimes a bag is just a bag.
And really, that's not interesting at all.
But when a bag is actually a surfboard carrier that doubles as a beach tent, then we start getting into bags-we're-willing-to-talk-about territory...
Introducing the
WaveCave
, your new all-in-one surfboard bag and tent combo, available online now.
For all of those times you've come out of the ocean and wished you could turn your surfboard bag into a beach tent, lie on the sand and eat s'mores while staring up at the setting sun, this is your satchel.
Okay, so nine times out of 10 you'll probably beeline it straight to the bucket in your trunk, rinse off and head home. But since you already need a bag to carry your boards, having one with a built-in tent really can't hurt.
If you've got kite boards, you'll want the 7'8 Triple WaveCave, which holds two boards and two kites. Otherwise, the 6'8 Double WaveCave packs in two boards and still has plenty of room for two people to hang out surrounded by up to 600D PVC waterproof canvas and a nicely padded tent floor.
The hardest part might be adjusting for high tide. Other than that, it's just a few zips and unzips between you and beachfront property.
Hot tub attachment, pending.