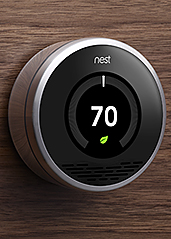 You know, we've got it pretty good.
Upper 70s at the end of October. Patios still at capacity. Yoga pants still glistening in the sun.
That's today, though. Tomorrow... who the hell knows.
And while you're certainly not complaining, a little consistency would be nice.
Consider yourself consisted...
Introducing the
Nest Learning Thermostat
, a living, breathing, thinking (okay, just the last part) thermostat that learns to adjust itself automatically according to your schedule and whatever tricks Mother Nature has up her sleeve, available now for preorder.
We know. In the world of riveting topics, climate control is right up there with... bread. But once you teach this thing how to bow to your will, you might begin seeing things a bit differently.
Here's what we're talking about: a slick, futuristic-looking unit, designed by the guys who led the iPhone design team. After you install it (they can also do it for you), use it like a normal thermostat for a week. Make adjustments before you go to work, when you get home, before bed. You know the drill.
All the while, it'll be learning your schedule. And after a full week of getting to know each other, it automatically adjusts the temperature based on your habits. It even knows when the house is empty and whether or not you have... company.
So when the A/C kicks on at 2am, you'll know who to thank.