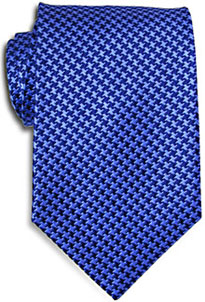 Dear Senator Obama,
The Democratic National Convention is right around the corner, so as fellow Chicagoans we thought it was our civic duty to offer you some advice on a matter of critical domestic importance: your ties.
Don't get us wrong. As neckwear goes, they're perfectly nice. In fact, they're probably nice enough to get you elected. But they're not exactly New Camelot chic.
So here's our simple one-point plan: Dress more like your wife. Wait, hear us out.
Michelle is bound to visit the first-ever
Maria Pinto
Boutique
, opening tomorrow in the Warehouse District. After all, Pinto seems to be Michelle's go-to brand, and when she wears it, she racks up more style plaudits than Gisele.
So while most men will choose to down a basil fizz at next door's Sepia as their wives prepare for fall gala season, you'll want to escort her into this sleek shop.
That's because Pinto is quietly rolling out a small line of couture men's neckties and bow-tie-and-cummerbund sets. With about a dozen limited-edition ties to choose from, they're made in the designer's signature fabrics: duchess satin, silk taffeta and jacquard weave. Plus, there's a few additional choices from her friend, Chicago necktie designer Lee Allison.
They offer a masculine take on Pinto's trademark power-elegance dynamic, with a palette favoring strong, bold and dignified hues.
They're suitable for making a champagne toast or an inaugural address.
Just in case you're thinking about that.
Yours Truly,
UrbanDaddy Chicago