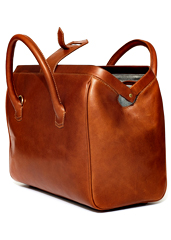 We hear you'll be shopping for a new overnight bag this weekend.
A very specific kind of bag.
Something that's handsome, without making a big deal about itself. Something rugged, but suitable for work travel. Something roomy, yet overhead-friendly. Most importantly, something able to hold inordinate amounts of candy.
You have your reasons. We won't pry.
But you should probably check out
Libero Ferrero
, a Chicago-born leather goods line, available now at Apartment Number 9.
They have four kinds to choose from: an overnight, a duffel, a doctor's bag and a messenger bag. To get a sense of the aesthetics, think Cary Grant flying Pan Am. Think Don Draper working as a bike messenger. Think you and Clooney doing shots in ORD's United lounge. (You drink him under the table in this scenario.)
The bags are precisely stitched by experienced craftspeople in LA, but the leather is tanned to exacting specifications at Chicago's legendary Horween. Plus, the duffel bag and the interior of the overnight bag are made from Holland & Sherry wool—which in another life would have become a hand-tailored suit.
But honestly, you'll probably most appreciate the small touches—like extra interior pockets suitable for all life's modern conveniences: cell phones, laptop chargers, shoes...
You hardly go anywhere without them these days.