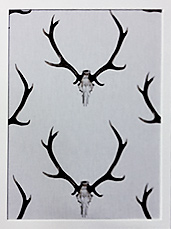 Consider the art on your walls.
It's beautiful. It's thought-provoking. It's original (especially the Picasso).
But sadly, it's never been able to play "Bohemian Rhapsody" for you.
That ends today.
Presenting
aFrame
, your new way to display framed wall art
and
listen to music thanks to a built-in speaker system, available now.
Forged in an undisclosed artists' colony deep below the earth (okay, fine, Brooklyn), this is the answer to all those times you've strolled through the Museum of Fine Arts and thought, "It would be great if I could get a little Flaming Lips out of this Monet."
To get the multimedia going, you'll contact these guys, tell them what picture they'll be framing (this probably won't be their first
Rhinos Playing Texas Hold'em
) and decide on a wood and finish. They'll handcraft the frame, add all the stereo stuff (amp, speakers, Bluetooth receiver) and ship it to you, and you'll spend about 10 minutes screwdriver-ing it together and re-walling your artwork (so yes, you'll need a screwdriver).
But if you crave a multiroom stereo/art system (you know, for gallery nights), they can also create multiple frames to sync up.
Laser light show optional.