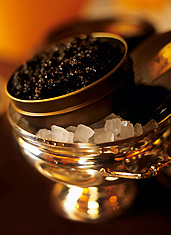 It's Monday, so naturally we're thinking about your caviar game.
And how you could improve it. With the help of some intense DNA testing.
Allow us to explain...
Meet
World Class Caviar Kit
, a mail-order package with everything you require for an impromptu caviar blowout, available online now.
If they gave out an Oscar for Best Supporting Roe, it would go to these guys—a couple of Russians who moved to Miami after receiving the Caviar Diploma from Moscow's International Food & Drink Exhibition. (Yes, you can apply.) They claim to be the first to DNA test all their caviar, meaning what they say you're getting is what you're actually getting. (You
hate
getting beluga when you ordered osetra.)
Here's how this will all go down. You'll be planning a little picnic with that Maria Sharapova type. The key component: vodka. Also: this. It's a kit with all of the essentials—three tins of caviar, blinis, crème fraîche, hand-carved mother-of-pearl utensils and a caviar-cooling bag. (You've been meaning to get a new one anyway.)
Next thing you know, you'll be lying on your blanket, reciting passages from
Step Brothers
in Russian, when she'll get a little quiet. That's when you'll break this out. As you pile the roe onto her blinis, she'll move in a little closer.
Don't spill the caviar on your blanket.