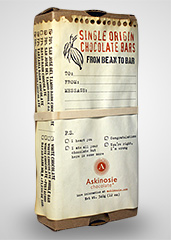 Chocolate.
Now that we've got your attention, we have someone we'd like you to meet.
A bean farmer.
More specifically, the bean farmer who's currently harvesting your next monthlong supply of Honduran dark chocolate.
Aka your chocolate guy...
But to get to him, you have to go through the cacao kingpins at
Askinosie Chocolate
, your new go-to for obsessive attention to chocolaty detail and quite possibly the next best thing to having your own Ecuadorian cacao bean farmer on retainer, available now.
Explanation time.
So these Askinosie guys have been chocolating around since 2007. Little outfit based out of Missouri that just launched online for the first time ever.
The reason we're telling you all this: before they even think about making your next batch of bars, they personally fly out to Ecuador, Honduras, Tanzania or the Philippines to meet face-to-face with the bean pickers themselves.
In other words, we're pretty sure you'll like it. But just to make sure, hop online and load up on
El Rústicos
with sugar crystals and vanilla bean, chocolate hazelnut spread and single-origin dark chocolate bars with the actual farmer's name and picture on the package.
Or better yet, just go for the
C-Ration
... a giant tube filled with no more and no less than 94 individual dark chocolate bars. It's supposed to last you about a month.
Or at least through Halloween.