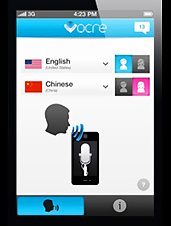 Ah, Friday—an important bridge between your two lives.
Today: a boardroom overstuffed with powerful VPs from all over the globe (plus Minnesota), and everybody wants to lock up this deal.
Tonight: a Hollywood bar overstuffed with comely extras from all over the globe, and they all want to hear about your idea for
Real Steel 2: Realer and Steeler
.
Let's help you avoid any language barriers along the way.
Introducing
Vocre
, a new iPhone app that'll record what you say and translate your words out loud almost instantly, in beta now.
Here's how it works: first you download the app. That's a good start. Then, next time you find yourself gazing deeply into the eyes of someone who... can't understand a single blasted thing you're saying, bring up the app and turn your phone upside down.
Speak into the microphone. (Meaning, the picture of the microphone that'll be on your phone.) The app will display what it thinks you said on screen first, to help you avoid any international snafus. Assuming it's correct, just turn your phone around right side up to face the other person, and you'll both hear a soothing electronic voice translate your poetic turns of phrase ("It's like
Rocky
. But with robots.") into French or Spanish, with plenty more languages coming soon.
Oh: it might also help when you travel.