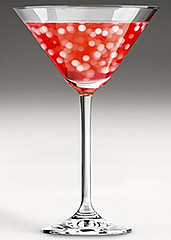 Halloween's great.
It just is.
But honestly, if you're forced to hear about one more "Boo-tacular Bash" with "Spook-diculous Bloody-tinis," you may be forced to go rogue and throw your own party instead.
In fact, you should probably go ahead and do that.
And since we wouldn't want you skimping on the themed-out cocktails with liquid nitrogen fog billowing out of them, you may want to learn how to make your own.
This should help...
Introducing the
Cocktail R-Evolution Molecular Mixology Kit
, everything you need to attain science-y cocktail domination at your next in-home soiree, available now.
Think of this as the adult version of a chemistry set. That, or the kind of experiments you might catch Bill Nye the Science Guy tinkering with when the kids aren't looking.
Sure, the molecular thing already had its day in the sun. But at the same time, this is exactly the kind of kit you'll want to have on hand, say, 10 days from now when your booze is expected to be every bit as creative as your Occupy Sesame Street costume.
It comes with pretty much everything—pipettes, a slotted spoon, a DVD with over 30 recipes, additives like gelatin and xanthan gum. Which you'll need in order to properly greet your becostumed confidants with mint-sphere mojitos and Old Fashioneds with maple syrup foam.
Foam: a Halloween staple since... this Halloween.